GROWTH OUTLIERS BOOTCAMP is the ONLY intensive workshop that gives you STEP-by-STEP guide on how to turn
your idea into a profitable business, position your business for growth & expansion and find the right kind of investment
for your business
It is a detailed  and highly intensive 30-days business strategy bootcamp targeted at you , if you either have a new
business idea, recently stated your business  or  are looking to grow your existing business.  We have put together the
essentials to turn your idea into a profitable business.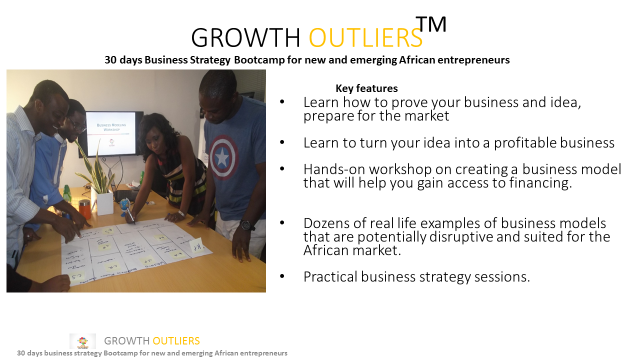 CLICK HERE TO  
KEY FEATURES
How do you identify risks in business?
Get customers and generate revenue quickly?
How can you develop an idea into a profitable business?
How do you build a winning business model?
How can you position your business for growth and expansion?
How do you become Investment ready?
CLICK HERE TO  
CLICK TO  
& get access to an unparalleled Strategy experience for your business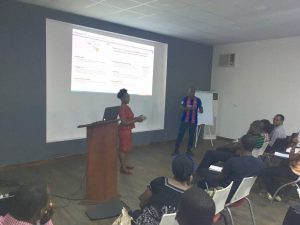 Find out what entrepreneurs are saying about us

Olawunmi is very committed to helping growing businesses. She has been available to me
each step of the way as my mentor. She has a wealth of knowledge and she never leaves any of my questions unanswered
or unattended to let  alone challenging my ideas. She has made me understand business from a whole new perspective.
I am now able to think outside the box and my business is undergoing a great metamorphosis which will enable us soar to
great  heights. When we started out it was simply an idea born out of passion but after a journey of seven weeks with
Olawunmi it is a business worth billions of investment.
Dorcas Matseketse
CEO, Tabitha Clothing Store, Kampala, Uganda
TEEP 2017 Entrepreneur

Olamide was instrumental in helping me achieve annual savings of GBP 250, 000 through utility invoice
streamlining despite this being a small part of her role. She was quick to understand my vision for introducing
structured bill runs and eliminating estimated read invoices and credit notes and dedicated in implementing
changes. Despite no previous experience in energy invoicing, she was enthusiastic and quick to learn about the many
elements which make up an invoice and tenacious and patient with the suppliers in chasing corrections and owed
monies Self-sufficient hard working and personable, Ola would be a credit to any company.
Neil Kimpton
Energy Business Manager, Mitie Energy – Lloyds Banking Group.

The Business Outliers team do  excellent work. Attending the business modelling sessions  truly
opened my eyes to see and usurp growth opportunities for my business. I have learnt how to avoid business risks and how
to test my model in my  locale. This impact of this is that I am better prepared for success, and I daily see this is my
International trade business.
Opeoluwa Tomori
Renewable Energy Consultant, Lagos, Nigeria